Judy Jacobs
Judy Jacobs is an ordained Minister of the Gospel, inspired and anointed woman of God who through word and song presents the Good News of Jesus Christ.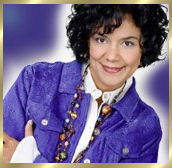 She is known for her dynamic singing and ministry of the Word. Minister Jacobs demonstrates the joy of a true worshipper and encourages followers of Christ to experience freedom, allowing God to transform their lives.
Minister Jacobs uniquely communicates God's powerful message to His people. As a teacher, preacher and psalmist she has led thousands of people to a saving knowledge of Christ through concerts, conferences, churches and conventions around the world. Minister Jacobs' Television program—JUDY JACOBS NOW! is aired on major Christian networks and reaches 51 million households around the world. Through her ministry bodies have been healed, marriages restored and many Christians have been able to grow spiritually and make positive life changing decisions.

<<< >>>